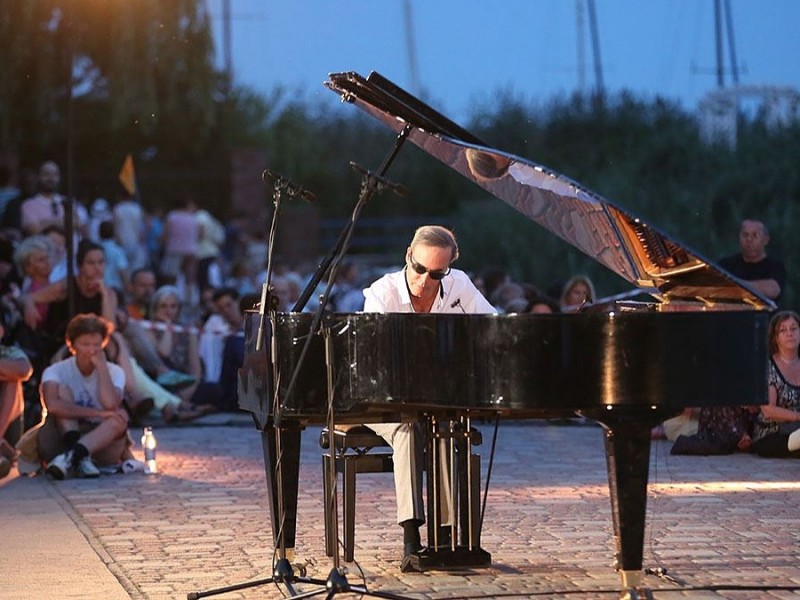 The Enthusiasm of the Public Made us Forget All Our Problems
2020 has been a year of cancelled concerts. The year has been especially devestating for music festivals, although in some cases a lucky constellation and a short respite between two waves of the pandemic made it possible for classical music to cautiously find its way back into our lives. One such escapee was the already traditional festival of the northern shore of lake Balaton, Music at the Lake Festival that billed nearly fifty concerts in the summer months. Programing, concert management in these difficult times and the basic experiences of this summer were the subjects we discussed with Márta Érdi and pianist Tamás Érdi, the artistic director of Balaton Summer Festival.
The program of this year's festival was characterized by some exciting encounters and a diversity of setups. Just two examples: Ingrid Kertesi sang with the Saint Ephraim Male Choir and representatives of different generations appeared at a concert featuring Gergely Devich and Bálint Zsoldos. What were the most surprising formations, and how did they emerge: as a general rule do musicians approach you with the idea or do you invite them to play together?
Márta Érdi: I am glad to hear you say the Festival was characterized by great diversity and I am also grateful that by some miracle we could manage to overcome a great many obstacles and had 45 most successful concerts of classical music on the northern shore of Lake Balaton In fact, looking for new venues, we even ventured out to Tata and Fertőd. I cannot and do not want to rank our concerts according to importance, I love them all, but Tamás has more to say about the programs and how programming ideas are born.
Tamás Érdi: I regard the possibility of playing with friends every summer for the sixth year now as a huge gift. My close ties with musicians who are now world famous go back to the musical camps of my childhood where we played together when I was a child. I also found wonderful new friends with Róza Radnóti in BMC, the Budapest Music Center. Let's Play Together was the title of a whole series of concerts in which we introduced young talents, by now well known to the public and it just feels good to invite them and take pride in their friendship. The musicians you mentioned – the Saint Ephraim Male Choir and Ingrid Kertesi – are even older acquaintances. It was my idea to bring them to the podium together, I played with Ingrid on many past occasions and I know she likes to experiment. At earlier festivals, she sang with piano, clarinet and saxophone accompaniment, and I know that this time too, she amazed her audience.
Musicians as a general rule had to go without performances since the pandemic broke out, many met with an audience for the first time at your Balaton Summer Festival. I am sure those were emotional moments that must have affected their performance. Did you feel this surge of energies during the Festival? And did you perhaps discuss with fellow-musicians the joy of returning to the podium?
M.É: Basically, the programs are put together by us, but it's wonderful to find that more and more musicians come to us to say they would like to participate. This summer we were happy to be able to comply. We had 13 "admitted" events, that is, concerts sponsored in part by us and in part by the National Philharmonic Society. Those musicians had had no concerts for the preceding six months and the very presence of an audience made them happy, they radiated with joy and relief. And the same energy was there in the smiles of the people who heard and applauded them. Such a thankful public! Yes, that was the happyness of being able to be there again, and that deep silence of acceptance in the garden of the Vaszary villa, on the shore of the lake, in its turn, invigorated the musicians.
T.É: That was also my own persornal experience and I could also bring you several examples of how we survived that difficult period followed by the sheer joy of being able to play to an audience again. After months of practice and learning new material, that of course was most useful, it was wonderful to have people around you again. Levente Bakó told me he thought the public would stay until the early hours of the following day at Balatonkenese, because people enjoyed the music so much. They were chatting away and playing music well after half past nine. At his Opera for Beginners Dániel Dinyés had been talking about Don Giovanni – illustrated of course with beautiful Mozart arias- for a good ninety minutes when he asked whether his listeners wanted one more aria. And an outcry of yes was the answer.
People were just as starved for the experience of live music as we, the performers were. Mind you, the mosquitos were biting and one swallowed all kinds of flying bugs. In Almádi, the Festival opened with my Chopin concert, fortunately it was a beautiful day and thanks to sponsorship by MOL's Very Balaton project, that concert could also be recorded. It was an additional surprise and gift as it were that the Moon appeared from behind the clouds when I began playing Claire de Lune as an encore.
The Festival program included many events for children, but I found that the concerts for adults were also very child-friendly, what with the pleasant surroundings and a lot of music on the lighter side. Were there many children at your "adult" concerts and how did they like what they heard?
M.É: Being acquainted with my past of "Cimbora" programs, you know all too well how important children have always been to me. Actually we know each other from there and let me say here how much I appreciate all that you do for young people. I think one of the great achievements of this Festival is that we took classical music to the beaches and there managed to attract the youngest of the young. To me nothing is more important than winning children for classical music at the earliest possible age. You should see how they love to take part in the performance of The Magic Flute when Dénes Gulyás brings them up to the stage. Or how they dance to Weöres poems at the Cimbora concerts…
And once they are touched by Mozart's music and remember the name and poem of Sándor Weöres, we have won. Now that we have the support of the European Cultural Capital project that covers Veszprém and the Balaton region, we want to give even more emphasis to our programs for children. Already I have in mind a whole list of well-known musicians whom I want to invite to put together programs specifically for our festival next summer. I am thinking of outstanding musicians, including pianist Izabella Simon, flutenist Nomémi Győri, bassoonist György Lakatos, tuba player Roland Szentpáli, but I would also be happy to welcome the miracle group of Dániel Dinyés, Levente Bakó with his brass band and you, needless to say, with a program for children.
T.É: The concerts in the evening are also attended by many children, I always hear their voices before I go on stage. They behave well, do not make any noise and why shouldn't they come with their parents, it's summer and there is no school or kindergarten the following day, they can sleep as long as they like. I also think it is very important to win over small children, it is our job to take to them the message of Bartók and Kodály. I often go to schools to play and talk to children about music and I find they are interested. I always think we should do even more of that.
Let's go back to the pandemic that also endangered the Festival. Despite all the question marks the concerts could be held. How did all the uncertainty affect you and how could it be overcome?
M.É: Well, it was extremely difficult. My colleagues could also tell you lot about this and I am extremely thankful for their patience, just as I am for the unbelievable empathy and support of those who helped us in the various towns and villages. Programs had to be reorganized, new venues and dates found and in the beginning it was also very difficult to make sure everyone adheres to the new rules: people register, wear masks and keep the social distancing requirements. There were days when we had to escape from impending storms by finding shelter indoors – on such occasions it was quite difficult to have people accept that wearing a mask is mandatory. But we managed to have all 45 concerts without major problems. I admit I also had a feeling of want. Based on the experiences of Eszter Pista and the Cadenza Arts Management, we planned to join an international chain of festivals. But many months of work went up in thin air when the epidemic prevented the guest performance of the Italian GliArchiEnsemble, the Slovak Philharmonic Orchestra, an Italian pianist and the excellent violinist, Asuka Sezaki.
T.É: I couldn't go to Katowice, London, Sicily and my recital also had to be cancelled at the Ljubljana Festival. As you can imagine, I wasn't happy, but I hope to go to all these places next year.
You are lucky if one may say, because -weather permitting- your concerts were oudoors. The regular concert- going audience has dwindled, people don't buy tickets, but free concerts out of doors remain attractive, as people, as you said, are starved for culture.
T.É: That's true, people are starved for culture and this summer it was clear to me from the volume of the applause and the eagerness of people asking for encores that we had a huge number of listeners everywhere. Most of the concerts were held outdoors, only a few had to move under shelter, and people were not really afraid back then in the summer months. I was awfully sorry for the concert at that wonderful venue at Fertőd where a stormy wind swept away our celebration of Beethoven with the Budapest Strings under conductor Gábor Káli in the park of the Esterházy Palace. That event was held in the Marionette Theatre that was filled with people – they were all wearing masks. The program was so beautiful that it made us forget about the heat. We had a Haydn overture, followed by the piano concerto in C-minor, then came a beautiful Mozart aria with opera singer Csilla Csővári and the final piece was Under the Hills of Csitár with piano accompaniment. By that time, it was so hot that one could hardly breathe. But the enthusiasm of the public made us forget all the problems.
M.É: I can also confirm that not even indoors did the size of the public go down. In fact, the only concert we recorded is proof to show that we had a full house in Almádi, with people sitting all along the pier and even in yachts and boats.
I am sure with all the organizing you had to do, there wasn't much time and energy to sit down and listen to concerts, but it must have felt good to hear classical music on the shore of lake Balaton. How did you feel when the first concert of the Festival began and when the last one came to an end?
T.É: Even in March we only hoped that the Festival could be held and only began to trust that it would be a reality when the first posters appeared. The first sound of each concert brought relief and joy to the participants, while the feelings accompanying the final event were more complex. It was wonderful to know that the Festival was successfully accomplished but ending something and parting is always said. I don't like to say goodbye. When the concerts ended, thinking of the enthusiasm of the pubic, I had a wish. How wonderful it would be, I thought, if music could bring healing to people's souls as well as this world of ours that is battling so hard with desease.
Mona Dániel, 2020. október 22. / Fidelio
https://fidelio.hu/klasszikus/a-kozonseg-lelkesedese-azonnal-feledtette-az-osszes-problemat-gondolatok-a-6-klassz-a-parton-margojara-158884.html?fbclid=IwAR2N4IBVB5Y3i4qcQUulCh3Qlowd5ya7ji7yDLiSVyt9ZzRfJI_w4WnAUys
2020/10/28